This week we close out the 2022 Pickleball Season for Night Train Pickleball. At end of each year I like to take some time and think back and share what has happened throughout the year for Night Train Pickleball.
We have had some amazing things happen this year and we have had to say goodbye to a few things along the way as well. With each new year brings its own victories and challenges but all of it has been good for the growth of Pickleball and for the growth of Night Train Pickleball.
Below we wanted to share a few of these with you as we journey through the year in this newsletter.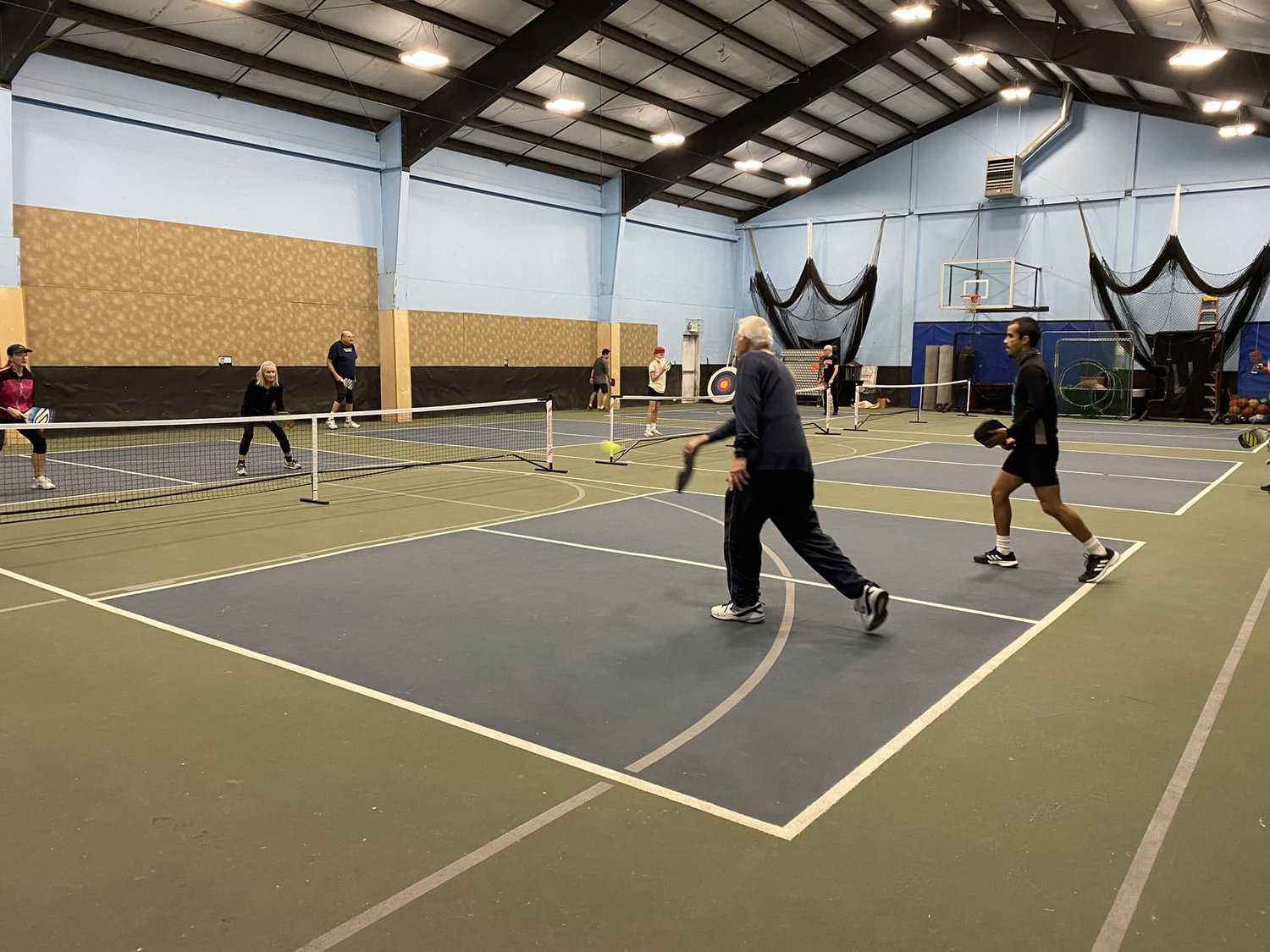 We say "Goodbye" to Canby
(hopefully just for now).
This place is very special to me both personally and professionally. Why? Because this is where it all began for me. I remember asking a few players at open play if they would like to drill. Then mentioned that if they knew anyone who wanted to drill with us please feel free to bring them. When I showed up to drill that next Tuesday 6 players showed up.
When I proceeded to lay out the drills the players looked at me like I was talking a different language. I ended up teaching a part of the game to them and showed them some different skills and mechanics. Then invited them back for Thursday of the same week and again shared that if they knew players who wanted to drill feel free to invite them. When I showed up that Thursday 15 players were standing there ready to learn. Now, to be completely transparent teaching Pickleball was NOT on my radar and I had no intention of teaching or coaching after a 15 year year career in the fitness industry along with a career in the Ultimate Frisbee world.
Well, how do you fight fate? My experience is it is better to walk through that open door and grab hold of the opportunity before you and get ready for the ride of your life. Every time I walked into this building and I had a few minutes in between games I would sit down and drink some coffee and think about the first time I did this or the first time that happened or the first students I had in those sessions.
Canby, thank you for the start and thank you for the memories. Also, a BIG thank you to those first players who believed in me enough to show up and keep showing up. It will always be a great set of memories for me and I hope that in the future we can come back to this place and play some Pickleball gain.
We Expanded Our Reach With Clinics This Year
This year we had the opportunity to add a few new locations to our clinic season. One of the places we had the opportunity to teach was Newberg.
They are a new club and Mike and Sheryl have worked hard to grow and organize this location and give these players a great place to play during the year.
We were very fortunate to be invited out and to teach this great sport to these very enthusiastic and welcoming group. They were eager to learn and worked hard during every clinic we held out at their location.
Thanks Mike and Sheryl for having us out and we look forward to coming back out next year and doing it again.
If you are interested in having us come out and teach some clinics please feel free to reach out. We are excited to work with both new and intermediate players.
Saying Goodbye To A Few Friends
I am not sure that it ever gets easy having to say "Goodbye". This year I had to say goodbye to a few players that I have come to know and like playing with over the years.
Jim (first pic) was a great guy to play with and against. Mr. Spinner is what I would call him when we played. He seemed to be obsessed with getting as much spin on each shot that he could. Did it work all the time, nope. Did it look good when it did, absolutely. However, Jim was such a great guy to have a conversation with when you were waiting for your paddles to come back up on the que. Arizona gained a great guy and player and I hope that Jim gets to play a lot of Pickleball and spend tons of time with his family there. Thanks Jim and until we meet on the courts again!
Ed (second pic) was a one of a kind. I never have played with anyone before or since who had their hair perfectly combed showing up to the court and then when the left. Of course that smile Ed always had on his face and the kind words he always shared with everyone was always welcomed and sometimes needed. The two things I will always remember about Ed is that when he first started showing up he brought his own (modified) paddle. (That is a story for another time.) The other thing I remember him for was that every time he would get a high ball he would shuffle his feet really fast but he never went anywhere. I would admittedly lob him just to see his feet shuffle. I know I know, maybe not the nicest thing but I sure did get a laugh every time from it and Ed would would always smile back. Ed, I am going to miss you on the courts next year. I wish I could play just one more game with you. One day we will meet again and you can be sure I will lob you my friend. Rest in Peace and I hope you are playing a lot of Pickleball in heaven.
New President of Wilsonville Pickleball Club
This year has also seen me step in as the new President of Wilsonville Pickleball Club. We have big plans for the club going into next year and you may have seen a few things as we ended the season from this past year.
New Drilling Sessions
Intro to Pickleball Classes
New leagues coming next year
New rating systems coming next year
Working on a few more courts
Possibly bringing back the local tournament
Maybe an MLP league……
Lots of new possibilities for next year that we are excited to roll out and see what works and what other opportunities we can bring in.
New Position: HEAD Regional Marketing Coordinator
As some of you may or may not know I had the great opportunity to be a sponsored player with Head Penn Pickleball last year. It was a great honor to be asked and to accept. Thank you HEAD for your support of me as a player and instructor.
The end of this year I was approached to take on a bigger role with HEAD and step into the RMC or Regional Marketing Coordinator for the PNW area. This means that I get to help support and continue to build Team HEAD in the PNW. This I will say I never saw coming.
In the next year I will be working on getting to know all of the team members and see what I can do to support their journey with HEAD and then look for some new team members who will be a great fit for the growth of the HEAD brand in the PNW. Great things to come!

New Certified Rating Specialist

Through my journey as an instructor in the game of Pickleball I am always looking to see how I can add more value to the players I have the opportunity to impact through the sport.
I recently completed a certification that I think is much needed in this area and that is becoming ratings certified through IPTPA. I am already a certified Pickleball Instructor with them and I like the way they have set up their rating certification to be as unbiased as possible so it made sense to me to move forward with it a few months ago.
This will be effective going into next year to help players find where they fit in the play sessions and even in tournaments. It will help answer a lot of questions as to what is expected at each level and what it will take to move up.
I look forward to helping players next year by providing a solution to "Playing at the next level".
Goodbye 2022
Christy and I will spend our day thinking about the 2022 Pickleball Season and get ready to celebrate the new year 2023. We will also remember every player who signed up for a lesson and a clinic this year. We will think back and remember those who included us in their Pickleball community this past year.
If it was not for you and you know who you are we appreciate everyone who shared the court with us this year. We want to say a BIG thank you! If it wasn't for you we could not teach this amazing game and live the dream. Pickleball is so much more than hitting a ball and running around on the court. It is about the friends we have made while doing it. The lives we have had the opportunity to touch while teaching and the laughs we had while sitting on the sideline waiting for our paddles come back around. It is those of you who spoke life into us and encouraged us with a kind word or went out of your way to support us. Thank you will never be enough for what each and everyone of you have done for us.
As we say goodbye to 2022 and get ready to welcome 2023 we feel very blessed and grateful for this sport. We look forward to seeing everyone of you back on the courts again next year!